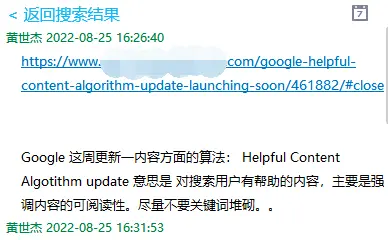 杰赢网络紧密跟踪
谷歌算法更新
,并调整相应的Google SEO策略。
Google's algorithm for updating content this week:
Helpful Content Algotithm update
(
有用的内容算法更新
) 意思是 对搜索用户有帮助、有用的、有益的内容,主要是强调内容的可阅读性。尽量不要关键词堆砌。
关于产品的介绍,分类词(核心词)等页面,的文字介绍大致方向:
Detailed + professional introduction of this product category, you can start from the following aspects, product definition, product composition, product classification, product material (also can expand the professional introduction of material), product processing process and technology introduction, product characteristics, product application, product selection, product maintenance, product replacement, product quality suppliers, etc., so as to enrich the content of this page.
The preparation of these contents is brain-burning.
这对Google SEO站内内容编辑方面提出了更高的要求,需要大量时间精力于内容上。也极大地提升了SEO的难度和人工成本!低价SEO早已经成为过去式,不要再被低价SEO所诱惑!
一般的SEO公司,已经无法胜任这样的工作了。需要企业和SEO公司极大的配合,专业的企业才能做出专业的内容,才能有更好的SEO结果。杰赢网络肯定是你专业的
谷歌优化服务商
!
google-helpful-content-algotithm-update